First of all, search the data you seek (no registration required)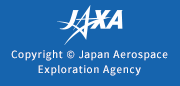 For First-time Users
Users can search products and download contents which support their use.


Find the target product
from physical quantity

Find products of interest
from satellites and sensors

Support for use of
downloaded products
Corresponding products are searchable from various geophysical quantities (precipitation, snow depth, vegetation, ocean color, etc.) classified by atmosphere, cryosphere, terrestrial, and ocean groups. Please watch the video explaining how to search for and download a product.
* The video is using the system under development. It may differ from the actual system partly.
* Click here if the video can not be played
---